---
USS Washington Personnel File: 41/50
---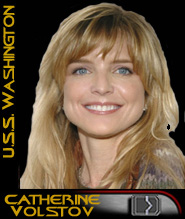 Name: Catherine Volstov
Serial Number: 217-4344-H
Rank: Petty Officer 3rd Class
Position: Pilot 2
Race: Human
Gender: Female
Ethnicity: Uzbek
Age: 41
Height: 5' 10"
Weight: 173 lbs.
Hair: Blonde
Eyes: Blue
Skin: White
Build: Sinious
Marital Status: Single


---

Education:

2376-2378: Starfleet Academy - 2 Years
-Certificate in Flight Control

Service Record:

2378-2383: Starbase 4 - Transit Pilot - Crewman
2384: U.S.S. Washington – Pilot - Petty Officer 3rd Class

Decorations:

N/A

Personal History:

Catherine was born in an ethnic Uzbek village in the mountains of Central Asia. She lived in a rather unconventional way, forced into the nomadic lifestyle of her parents and living in yurt. Her family voluntarily chose to live without the luxuries of the modern area. However, the simple nomadic life of her forbares was not enough for Catherine who choose to intergrate with society and join Starfleet. It was not an easy choice for her, yet she stands by it though she still struggles with everyday things that the crew takes for granted.