---
USS Washington Personnel File: 41/50
---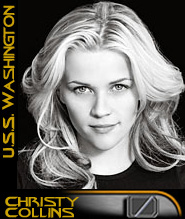 Name: Samantha Rogers
Serial Number: (Example:) 137-7665-E
Rank: Petty Officer 3rd class
Position: Nurse 1
Race: Human
Gender: Female
Ethnicity: Canadian
Age: 29
Height: 5'3"
Weight: 118 lbs
Hair: Blonde
Eyes: Blue
Skin: Fair
Build: Small
Marital Status: Divorced


---

Education:

Two year nursing certificate


Service Record:

2378: Star Fleet Academy: First year Cadet
2379: Star Fleet Academy: Second year Cadet
2380: Star Fleet Medical: Medical aid – Rank: Crewman apprentice
2381: Maternity Leave
2382: Star Fleet Medical: Nursing Associate – Rank: Crewman
2383: Star Fleet Medical: Nurse – Rank: Petty Officer Third Class
2384: USS Washington: Nurse – Rank: Petty officer Third Class

Decorations

N/A


Personal History:

Samantha is divorced and has two children, Jacob (age 4) and Sarah (age 9). Having divorced Dr. Timothy Rogers some two years ago, Samantha lost custody after a grueling custody battle. She dislikes speaking of the court proceedings, but loves to talk about her children who now live with their father on Earth.

Samantha originally entered star fleet during her marriage to Timothy Rogers while he was still an officer working at Star Fleet medical. The two had recently eloped after Sarah was born, some two years prior. After receiving a nursing certificate from the academy, Samantha worked at Star Fleet Medical with her ex-husband. Soon afterward she became pregnant for the second time, following a maternity leave her marriage began to fall apart and when she found out her husband was cheating on her, filed for a divorce. Although the affair was never proven, she was given custody of the children.

A year ago, her ex-husband filed for custody after moving to a home in Canada where he had begun a private practice. After some six months of custody hearings she lost custody to her ex-husband. Samantha was later transferred to the Washington. The distance from her children pains her, but she loves to hear from them. Hoping one day she can be near them again.