---
USS Washington Personnel File: 41/50
---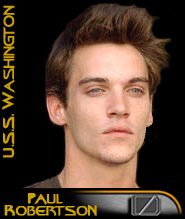 Name: Paul Robertson
Serial Number: 624-9836-P
Rank: Crewman Recruit
Position: Security Officer 6
Race: Human
Gender: Male
Ethnicity: Minnesotan
Age: 26
Height: 5' 8"
Weight: 208 lbs.
Hair: Black
Eyes: Blue
Skin: Fair
Build: Stocky
Marital Status: Single


---

Education:

2363–2368: Graves Elementary - 5 Years
2369–2371: West Metro Junior High - 3 Years
2372–2374: Metro High School - 3 Years<
2376–2377: Dunwoody Trade School - 2 Years -Certificate in Carpentry
2382–2383: Starfleet Academy - 2 Years -Certificate in Security

Service Record:

2384: Star Fleet Headquarters – Crewman Recruit
2384: USS Washington – Engineer - Crewman Recruit

Decorations:

N/A

Family:

Mother - Elizabeth
Brother - Johnny

Physical Description:

Samuel is rather stocky, but tough. He has this look about him that most would not want to cross, and sort of that school bully appearance. His hair is thinning and typically buzzed. He has also been growing a beard.

Personality Profile:

Samuel maintains the appearance of toughness. Not resorting to the "weaker" emotions that affect the "wuss" as he would call it. Despite this he has a strong sense of loyalty to his friends, looking out for them no matter how they face their emotions, but he is almost certain to tease them about it latter.

Strengths & Weaknesses:

Samuel is rather strong, but slow. Typically, during cardiovascular exercise he is toward the back of the pack, but is a valued team member when it comes to lifting and combat exercises. He also has a tendency to yell at objects when he gets angry. Yet most of the time he is capable of holding back his anger from others.

Ambitions:

"Kick some but and see the stars" –also the answer to why he joined up with Starfleet.

Interests/Hobbies:

Galaxy Wrestling League – Favorite holostream
Fishing – Something to pass the time while on leave
Ray Bradbury – Favorite Author

Personal History:

Paul, along with his twin brother Johnny, was born in a rural town in what was once known as the state of Minnesota. He never knew his father, who left town shortly after his mother's pregnancy never to be seen again. Paul, Johnny, and their mother moved shortly afterward to the city. There in Saint Paul, the two worked together on just about everything. School was no different, much to the disappointment of their instructors they turned in almost identical assignments. This lead to several lectures from their principal, but ultimately the two continued to stick together in more discrete ways. Learning that actual writing couldn't be identical, but calculations could… so long as they were correct.

After High school, the two went to separate trades schools; Johnny, for shuttle mechanics and Paul for carpentry. While Johnny worked on the shuttles escorting civilians from mars to earth, Paul went to work perfecting his skills and developing his woodworking into craftsmanship quality, but after several years lost interest.

It was one evening watching the galaxy wrestling holostream when he took up the notion that he wanted to join Starfleet. An advertisement aired calling for security personnel and showing other enlisted position opportunities. It was the ad, oddly enough, that gave him the idea it would kick but to serve on a starship. He enlisted and went through the security training protocol, finishing just in time to serve aboard the USS Washington.