---
USS Washington Personnel File: 41/50
---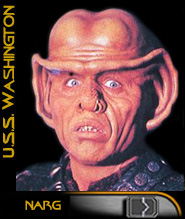 Name: Narg
Serial Number: 137-7665-E
Rank: Petty Officer 3rd Class
Position: Quartermaster
Race: Ferengi
Gender: Male
Ethnicity: N/A
Age: 30
Height: 5'5"
Weight: 127 lbs
Hair: Bald
Eyes: Grey
Skin: Tan Brown
Build: Unfit
Marital Status: Married


---

Education:

2378-2380: Starfleet Academy - 2 Years
-Certificate in Operations

Service Record:

2380-2383: U.S.S. Scorpio - Engineer - Crewman
2383: Deep Space 17 - Quartermaster - Petty Officer 3rd Class
2384: U.S.S. Washington – Quartermaster - Petty Officer 3rd Class

Decorations:

N/A

Family:

2353-Present: - Teega - Wife

Personal History:

Being one of only a handful of Ferengi in Starfleet, Narg is faitly well known throughout Horizon Fleet. He is a world class negotiator and capable of obtaining nearly anything imaginable. This can sometimes get him into trouble as he has been cited for smuggling, on occasion, various illegal food items. Narg had a large finanical portfolio on Ferenginar but was exiled from the planet after he was charged with certain tax fraud violations against the more social state run by the Nagus Rom.